When adding videos to BodySite, you are actually creating shortcuts to the videos. You can do this with both YouTube and Vimeo videos.  Once you add the videos to your BodySite library, you can then add the videos (as you also do with pictures, pdfs, etc.) to your plan content by dragging them and dropping them into any day or tab you're working on.  But let's address the first issue: how do you get the videos in your account in the first place? Watch this video: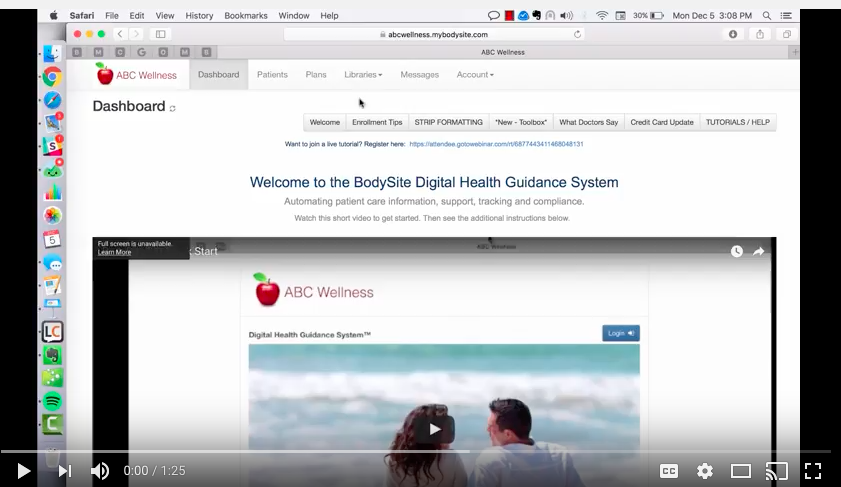 For written instructions regarding adding videos to your Video Library see below:
Click on the Libraries tab and then Videos. You will see that by default you land on the YouTube view. Copy the link from YouTube and go back to your BodySite account. Paste the link into the YouTube search box and click search. Once BodySite locates the video for you, you are able to view if it is the right video. If so, select "Add to Video Library+" and confirm. You can search for that video with any key word from the title of the video to confirm is was successfully added to your library. Now, the video is in your library and is ready to be added to any of your content.
You can also go to Vimeo and find any video that is sharable. Click on the paper airplane that says share and copy the link from Vimeo. Bring it back to BodySite and select the Vimeo option on your BodySite video library and paste the Vimeo link. Click search and use the same process as above to add the video to your library and confirm it is in your libraries.
All the videos that you add are able to dragged and dropped onto any plan on any day or any tab where you would like the video to be shown.