How do I track my food?
This is one of the most common questions we receive so we made a 20-minute tutorial about it.  You'll find additional text and photos of each step below the video.
Here is additional detail in the form of text and photos of each step of the food tracking process.
Full Web Browser
Tracking on your computer with a full web browser is a little bit different than our mobile application. On a computer with a full web browser, you can track food on the Track Food tab or from any page where a meal is listed with nutritional information and the "Track This" button. Let's address the "Track This" button first. Here is a picture of the program content from a day that includes a meal with nutritional info:
Any time your wellness content includes meals with nutritional values like the image above, you will be able to track that you ate the recommended meal by simply clicking on the "Track This" button. So if you ate the recommended meal for lunch, for example, click the Lunch button that appears under the "Track This" icon and select the number of servings. Once doing so, the foods in that meal will all be automatically stored in your food tracker. 
You can also easily Track Foods you're eating by just searching for them in the database in the Track Food Tab of your account. Here is the Track Food of your account:
Once you click on Track Food tab, you'll automatically be redirected to the Breakfast page. Go to the meal for which you want to search for a food item and locate the search box (see next image) where you can search for any food, brand or restaurant. For example, let's say you just wanted to search for and track the banana you just ate for breakfast. Type banana into the search box and click on the Search button. If results don't come up, click search again. 
What you'll see is several categories that match your search, including Generic Items as well as stores or brands that include the word banana. If you're just looking for a banana, click on the word "bananas, raw" to display serving choices. Search results example:
Once you click on the specific food item you're tracking, different serving sizes will appear.  The many serving sizes you see will help you to track the most accurate amount of food possible. For example, you can track bananas in several sizes or track it by the cup, the ounce or the gram.  Each food that you search will have differing serving sizes. Here is what the results are like for a banana: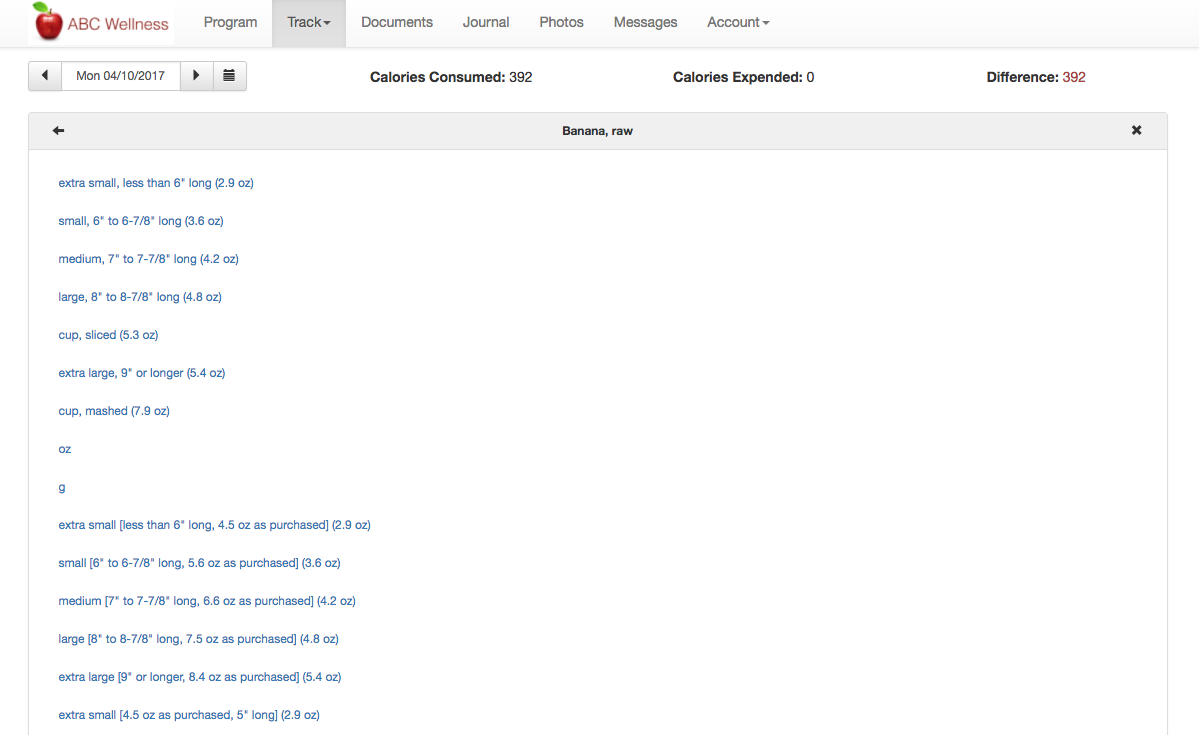 You can click on the item to see the nutrition info for each serving size. Once you make your choice, click "I Ate For", type the # of servings and click on the meal that corresponds to when you ate that food.  For example if you ate a medium banana for breakfast, type the number 1 into the Servings field in the row for "medium" banana, and then click on the Breakfast button.
If it's a food you're going to eat frequently, save it as a favorite before you add it to your meal and next time, you can find it easily in your favorites folder, rather than search for it again. You can also go back into a meal, select a food item and add it to your favorites afterwards as well by selecting the heart: 
The food will be added to the appropriate meal tab and total calories. You can see your overall total calories for the day as well as macronutrients consumed in both actual numbers and percentages in the All Day view.
You can delete any item you've added to a meal if you made a mistake and you can even adjust the number of servings or portions of individual ingredients under each individual meal in your account.
If you find that you're going to have the same type of meal over and over again (like maybe you eat the same snack most days), search for all of the items in that snack and then after adding them to your meal, choose the button that says "Create Meal From These Foods."
Once you save a group of foods as a meal, the meal will be stored in your Saved Meals which you will find next to the search box when searching for food items. You can open up the Saved Meals folder to rename any meal or to track the entire meal in one click the next time you eat that meal.  And remember that if you eat that meal with slight alterations, you can track the whole meal and then make adjustments to the ingredients on the meal tab in question.